17th and Tacoma Avenue
In 2013, I began designing for the public realm and started, what I like to call, my interventions of urban spaces. I was accepted onto the Tacoma Murals Roster and through this roster Tahoma Associates picked me to complete a 29' X 46' mural on the side of their building. As with all public murals completed through the City of Tacoma, muralist are required to get extensive feedback from the community which surrounds the site, to complete research about the history of the neighborhood, and get impressions of the future visualized for the community. After creating a design for the site, artists then present their design to the city,to the building owners and to the community to get approval.
After consulting with my mural's surrounding community, they really wanted the plaque that rests behind the Swiss, on S. 21st St, located right in line with the mural site, to be included.
The inscription says:
'Each December 21st gather to view the sunrise out of the top of Mt Rainier. If the weather cooperates when the first rays of daylight streak out of the peak of the sacred mountain, on this one day of the year, one can see through the spirit door between our world and the world of the dead.'
And when I turned the plaque image upside down, right away I saw it resembled an abstract mountain shape.
And, all throughout my childhood, I was told that Coastal Salish saw a glacial portrait of an elk head on the top left of the mountain. I see it every time I look at the mountain. In my research, I also discovered the elk is considered the mountain's guardian spirit. So I incorporated an elk image, rising out of the ground, trumpeting its colorful ray-like positiveness along with the word YES, into the design.
The elk's horns became the abstract outline of a mountain with its mushroom-spore-like formations representing the cycles of the moon. The center sphere, nestled within the horns, is symbolic of both the rising sun coming from behind the mountain, as described on the plaque, and also of the cycle's full moon.
The community had the final say between 3 different patterns, which were added to designate the abstract mountain shape. The chosen pattern reminded them of waves, both sound or water, or a woven basket pattern.
That is me standing in front of my mural!
Acrylic paint
29' X 46'
17th and Tacoma Avenue Street, Tacoma, WA
Mural-17th and Tacoma Avenue
Left photo: the plaque--my main inspiration--that inspired my design. Right photo: the 'elk' is circled in red.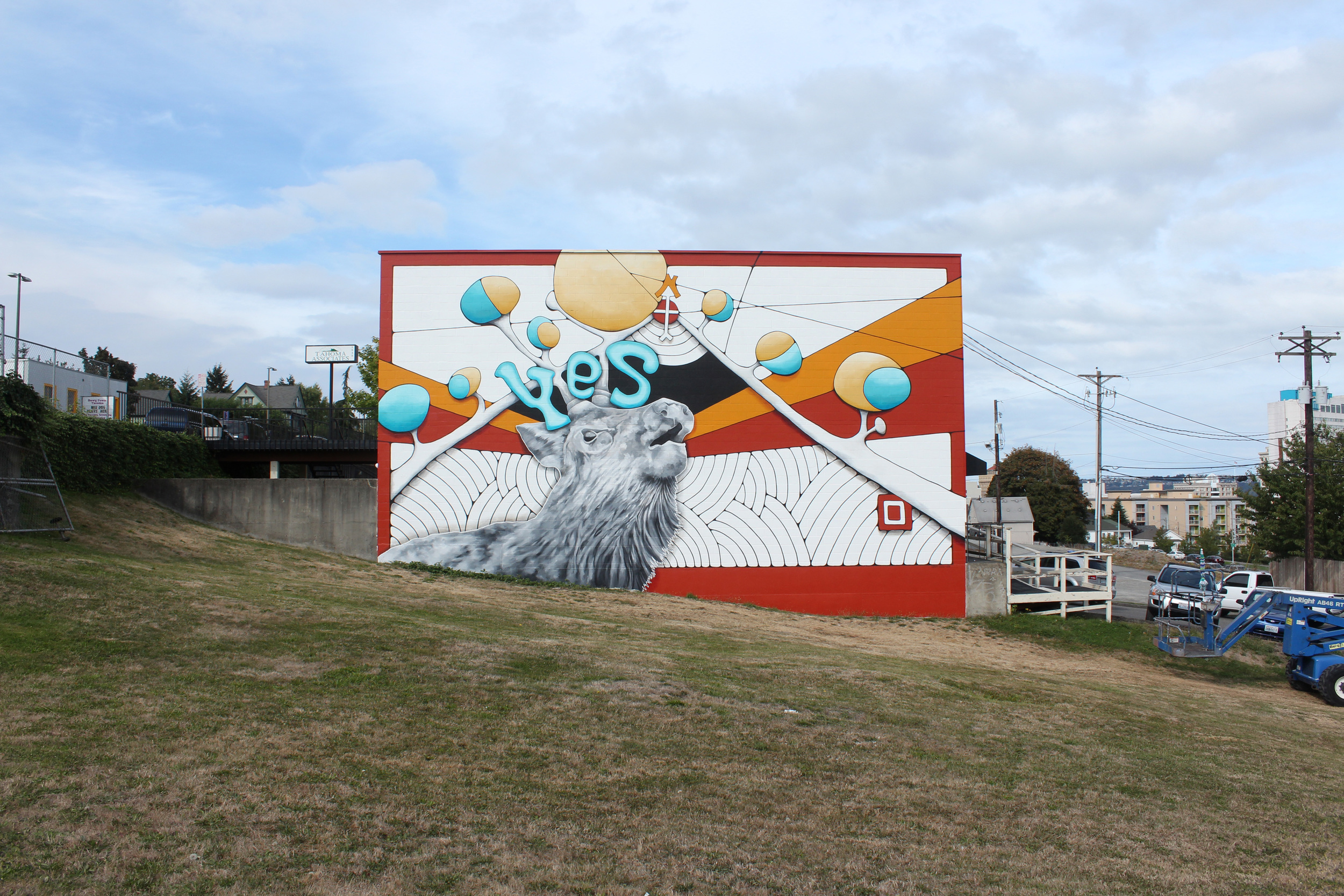 The mural with its surrounding neighborhood.
Acrylic paint
29' X 46'
17th and Tacoma Avenue Street, Tacoma, WA